THT Development Co., Ltd. in Hanoi has officially completed the transfer procedures of the complex of hotels, offices, high-end trade centers and services – Landmark 55 at the signing ceremony with partners Taseco Invest Joint Stock Company.
On December 30, 2020, THT Development Co., Ltd. – the investor of Tay Ho Tay urban area and Taseco Invest Joint Stock Company held the signing ceremony of transferring the project of the Complex of Hotel, Office, High-end trade and service center – Landmark 55 in Tay Ho Tay urban area, Hanoi.
According to the signed transfer contract document, THT is the Investor of Tay Ho Tay Urban Area Project (also known as Starlake) decides to transfer the component project to Taseco Invest as the transferee. Transfer of this component project in accordance with applicable law. The component project has the official commercial name of the Hotel Complex Project, Office, High-end Trade and Service Center – Landmark 55.
It is known that Landmark 55 is located in the plot of land plot B3CC2 in the urban center of Tay Ho Tay, Hanoi with a total area of 23,600 m2. Expected commencement time is in Quarter I / 2021 and construction is completed in Quarter IV / 2024. Up to now, this is the third highest building in Hanoi, just after Keangnam Landmark Tower 72 floors and Lotte Center Hanoi 65 floors and is the highest building in Hanoi invested by Vietnamese.
Mr. Pham Ngoc Thanh, Chairman of the Board of Directors of Taseco Group (Taseco Group), said that this transfer was the result of a long process of selecting projects, negotiating and receiving the transfer with expectation creating an iconic work as well as an architectural highlight and an important mark in its development process in the most prosperous area of West Lake, Hanoi.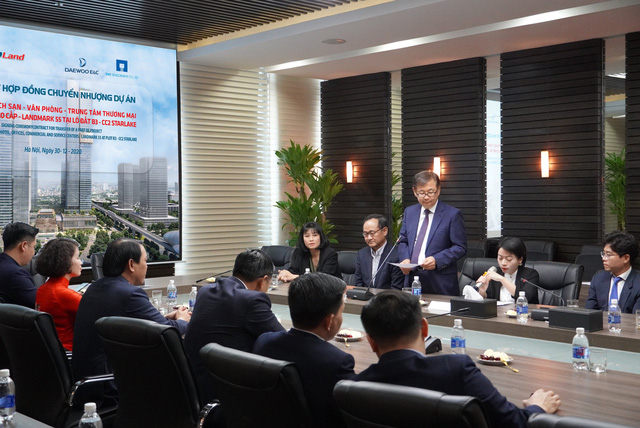 Speaking at the signing ceremony, Mr. Cho Sung Jin – Chairman representing the leaders of THT Development Co., Ltd. shared his opinion: "THT thanks Taseco Group and Taseco Invest for seriously implementing and correct the procedures for the two sides to complete the transfer contract. As a tier 1 investor, THT will support their best for Taseco's project to comply with the set scale and schedule.
It is known that, before the transfer of the hotel complex, office, high-end trade and service center – Landmark 55 in mid-December 2020, Taseco Land also launched the Hotel and Apartment Project. A La Carte HaLong serviced apartment with 41 floors, this is the only source in the real estate market in Quang Ninh on the days before the New Year.