Located in a prime location, possessing all the advantages of the busiest metropolis in the capital, Starlake luxury apartment complex is the choice of many foreigners in Hanoi.
"Strict" living standards of foreigners
Foreign visitors in Vietnam mostly come from countries with high material life, so their criteria for choosing accommodation are somewhat "stricter" than domestic ones. For example, Japanese people, although often aiming for a minimalist lifestyle, they focus on the quality of construction and the layout of their apartments. Mr. Kiyoshi – a technology expert who has lived in Hanoi for 3 years said: "In general, the design of apartments in Vietnam is less creative, the divided ground is not convenient for living. Besides, the quality is quite poor, high-class apartments but only 2-3 years have been degraded and damaged. Therefore, I often appreciate the projects of more prestigious foreign units, because they will apply new design thinking and higher construction standards to their products."
Meanwhile, European and American tourists tend to prefer green living spaces, in harmony with nature, suitable for a lifestyle that likes to practice sports and be active outdoors. "I have a habit of jogging around my living quarters every day, but with some apartment complexes I have experienced, it is not easy to find an airy and fresh space with less dust to meet my needs. this bridge." – John, an English teacher talks about the housing situation in Vietnam.
Also talking about the criteria for assessing living space, Mr. Lee – director of a Korean real estate brokerage company acknowledged: "For Koreans, factors such as synchronous utilities are more concerned. For example, in addition to basic equipment such as supermarkets and playgrounds in the building, urban areas with extensions for Education, Health, Commercial Center, etc. tend to be chosen to buy, because it makes daily life easier and more comfortable."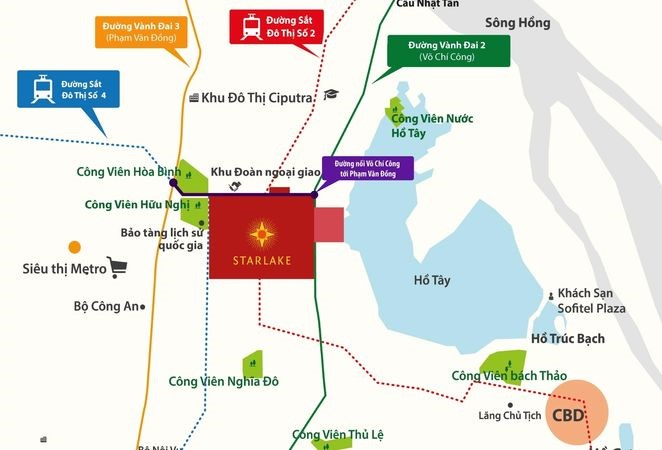 Starlake – A high-class metropolis in the middle of green space
It can be said that the "model" of the ideal place for each group of foreigners will be different, but in general, they are all aiming for a modern and civilized population, where people are connected with themselves, people and nature. Inheriting an important advantage as the most prestigious project in the bustling West Lake area, Starlake megacity invested and developed by the prestigious Daewoo E&C is the first choice of the foreigners community in Vietnam.
Located in the most prime location in the Capital, Starlake urban area is supported by a modern transportation system, convenient to the heart of the city, but "hidden" in an isolated, private location, suitable for lifestyle of the elite and foreigners.
Inspired by Korean-style luxury apartments, Starlake sets a new standard of worth living concept. Modern apartment design, such as apartment E with impressive multi-angle floor plan not only optimizes the use, but also suitable for many new design styles, contributing to affirming the personal element of the homeowner that foreigners often appreciate. In addition, the high-class apartment complex at Starlake is also planned synchronously with airy green space, connecting many high-class utility subdivisions from International School, Trade Center, Green Park and Internal Lake,…meet the needs of "All-in-one" life of foreign residents.
In particular, with the vision of planning the western area of West Lake to become the new administrative-economic center of the city, where 13 embassies and 8 major ministries are located, Starlake is expected to be came from high-ranking politicians and many groups of foreign experts working for large corporations such as CJ Group, Samsung,…. This helps to create a high-class, knowledgeable, civilized, multi-national community at Starlake, which is also an outstanding advantage that helps this megalopolis become an ideal place for international visitors to come to Vietnam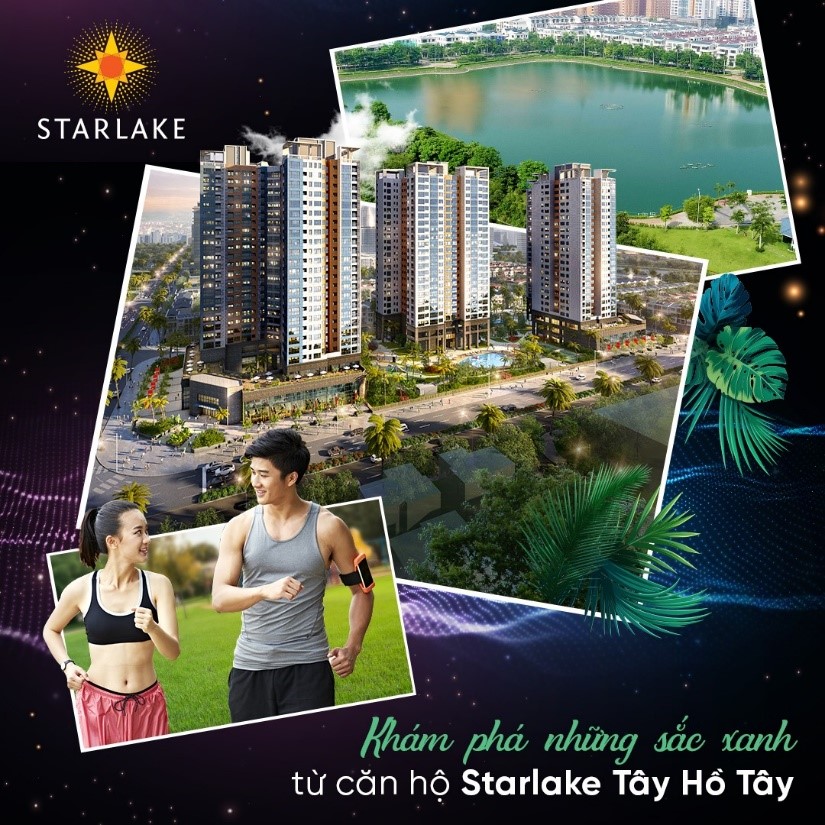 Starlake launches limited offer for the last apartment fund
With many advantages highly appreciated by foreigners, Starlake offers attractive profitable investment opportunities, especially for those who are looking for quality products, which can be used as apartments for rent to meet the increasing demand of international guests in West Lake area. Therefore, the limited E – type apartments being opened for sale is the last "golden" ticket that investors need to grasp, to be able to own a source of highly profitable assets in the future.
The attraction of this limited apartment fund is increasing thanks to a series of attractive incentives from investors. Buyers of E – type apartment will receive a direct discount on prices up to 12%. In addition, service support packages including interest-free loans up to 24 months, free service management for 5 years and 2 years car parking or luxury living room furniture package will also be among the special offers that the apartment owner receives when buying E – type apartment at Starlake.
To own a Starlake apartment immediately, please contact: STARLAKE Urban Area Project – Central Area of Tay Ho Tay Urban Area
– Hotline: 0961 669 379/1800.0003
– Facebook: https://www.facebook.com/starlake.daewooenc
– Website: http://apartment.starlake-hanoi.com/