Not only inheriting a series of exclusive advantages from a prime location, Starlake also gives homeowners the opportunity to freely express their personal style in apartments with unique and different designs.
Impressive living experience in the heart of the Capital
Located on a rare golden land in West Lake, the Starlake luxury apartment is considered as one of the international standard housing projects that promises to bring the most high-class living experience in the Capital.
Not only possessing a prime location on the 40m road connecting Vo Chi Cong – Pham Van Dong, distance only 200m from Nguyen Van Huyen, this luxury apartment complex is also considered an ideal "settlement" by its tight connection with many important subdivisions of the urban population. For example, the North looks at Starlake internal urban and West Lake, the East faces the internal lake and villas, the West borders Hoa Binh Park and Huu Nghi Park. Combined with the typical flexible diagonal construction of blocks, residents at Starlake apartment will have a rare and airy view, enjoy a relaxed, pleasant life all year round thanks to a synchronous green tree ecosystem.
With 3-24 storey buildings with 603 apartments, Starlake apartment complex is one of the few projects in Hanoi designed in Korean standard style, focusing on private experiences when limited to only 5-8 apartments on one floor. The buildings are also built with two interconnected basements for spacious parking exclusively for residents and 3 high-class commercial floors, providing a full range of high-class utility services, creating an "all-in-one" life for the inner community.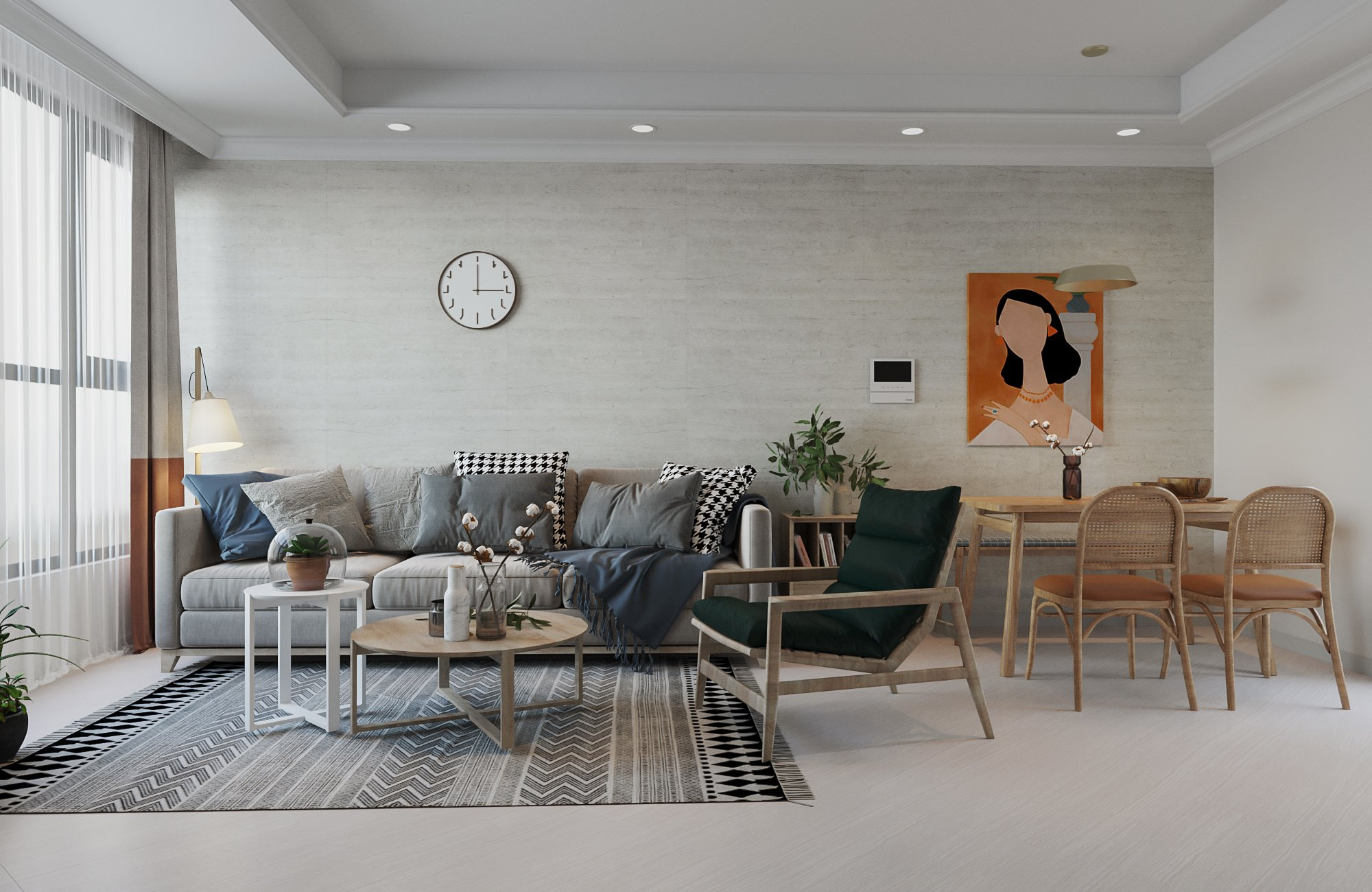 Create your own life with the unique E type apartment
With a limited number of only two buildings 901 and 903, E type apartment is one of the most attractive highlights of the H9CT1 apartment complex. This apartment inherits many special advantages from modern construction technology that investor Daewoo E&C exclusively for high-class apartment buildings, including high ceilings from 2.7m to 2.9m to help increase the possibility wind convection; outstanding sound insulation thanks to the double-thickness floor system. In addition, there are two-way air-conditioning system (dust-free, noise-proof and easy to maintain ducts), energy-saving insulated PVC-framed windows, high-grade insect screens are also fully equipped to increase the comfort experience at these E type apartments.
Like most apartments in Starlake, E type apartment is built with many impressive resonance features between modern Korean style and unique Vietnamese cultural imprint. On the total floor area of 124.97m2, this apartment not only has 3 spacious bedrooms with full amenities and luxurious interior equipment imported from abroad, but also owns an impressive common living space designed according to LDK standards (connecting living room – kitchen – dining) from Korea.
LDK is a smart design formula that helps to optimize the area while ensuring the functionality used in daily life. The connection of functional rooms living room – dining – kitchen will increase the ability to take advantage of natural light for every small corner of the house, and at the same time create a cozy and intimate gathering space for the family. In particular, with multi-corner apartments like E type, this design formula opens up unique creative opportunities for homeowners who are always looking for something new and innovative in life.
Instead of the square ground that is so popular on the market, the unique corner protrusion in the common area helps E type has a more spacious and airy open space than a regular apartment. Thanks to that, the owner can also freely arrange and decorate the interior in many different styles and directions, while still keeping the comfort and reasonableness in daily life.
Despite the difficulties of the real estate market during the Covid-19 epidemic, apartments in Starlake in general and type E in particular still have a certain attraction in the market. In this last sale, apartments at Starlake are being offered a promotion of up to 13% by investors. Owning this type of apartment at a golden time, homeowners not only inherit a series of high-class facilities such as playgrounds, swimming pools, squares and lakes, etc., but also have many outstanding privileges, such as a luxury living room furniture package according to international standards or support services such as free parking for 2 years and 5 years of management fee at the building.
Create an uplifting life with the unique E type apartment at Starlake today!
To own a Starlake apartment immediately, please contact: STARLAKE – Central Area of Tay Ho Tay
– Hotline: 0961 669 379/ 1800 0003
– Facebook: https://www.facebook.com/starlake.daewooenc